If you can help with names please contact
Webmaster
Give the picture number and names from left to right.
0
gillis0001.JPG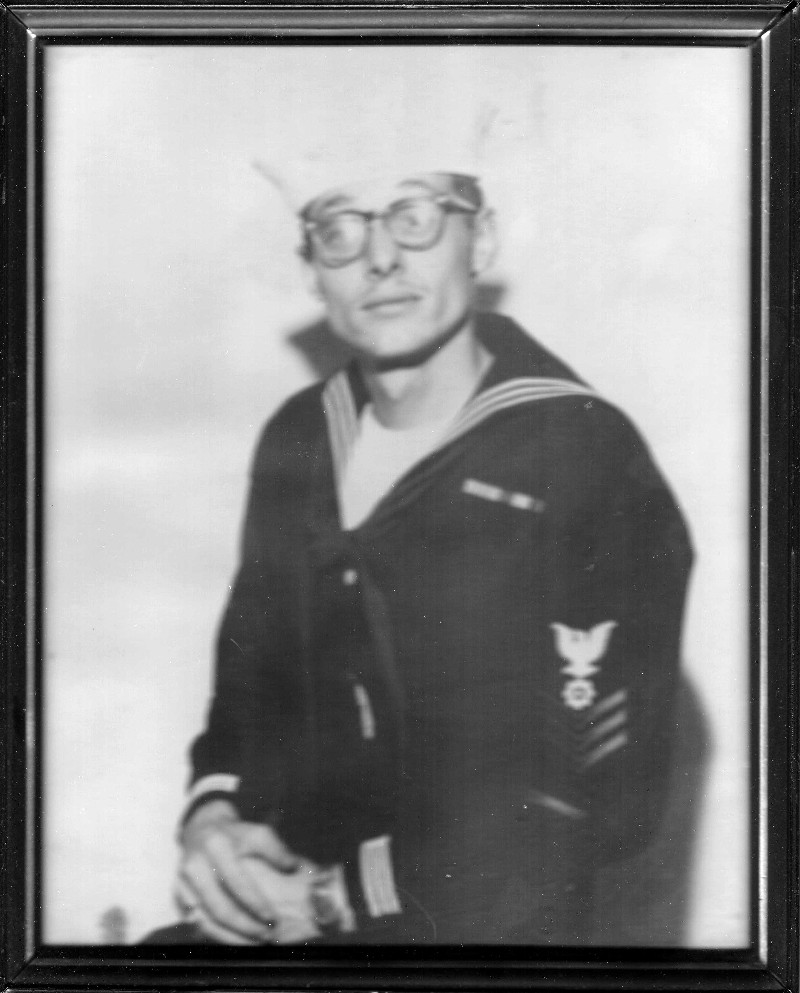 Cecil J. Gillis, EN1
Return to Photos
Bridge
---

gillis0002.jpg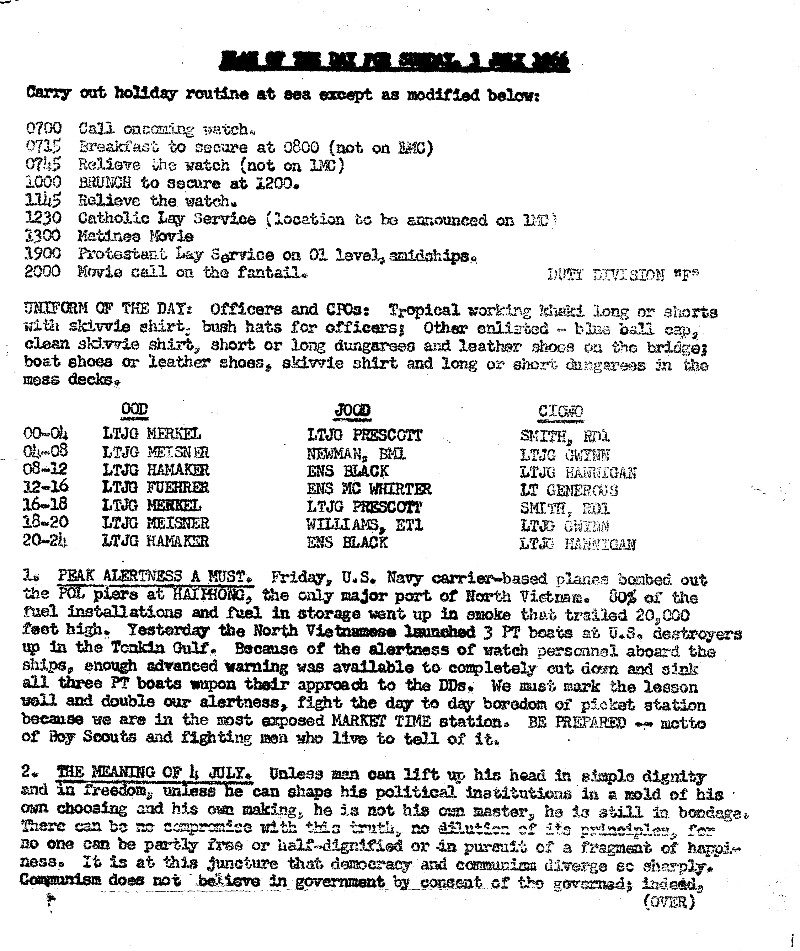 POD 3JULY1966
Return to Photos
Bridge
---

gillis0003.jpg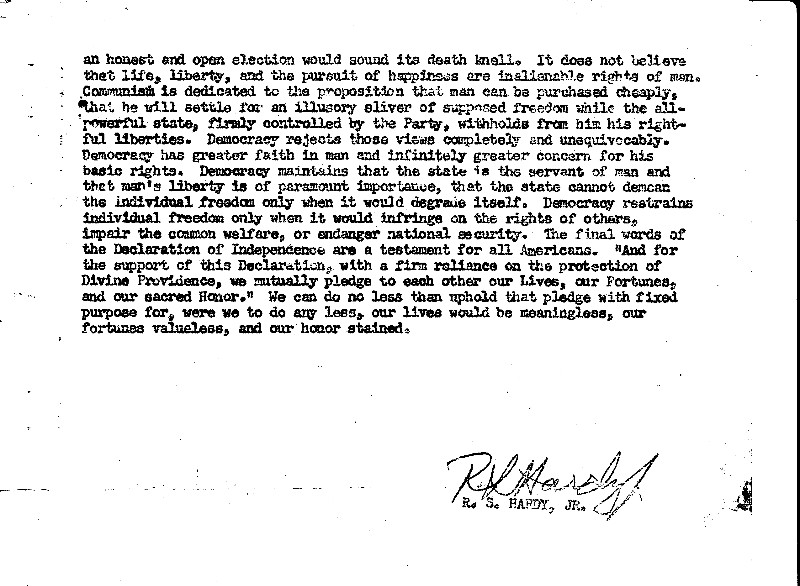 POD 3JULY1966

PLAN OF THE DAY FOR SUNDAY, 3 JULY 1966

Carry out holiday routine at sea except as modified below:

0700 Call oncoming watch.
0715 Breakfast to secure at 0800 (not on 1MC)
0745 Relieve the watch (not on 1MC)
1000 BRUNCH to secure at 1200.
1145 Relieve the watch.
1230 Catholic Lay Service (location to be announced on 1MC)
1300 Matinee Movie
1900 Protestant Lay Service on 01 level, amidships.
2000 Movie call on the fantail. DUTY DIVISION "F"
UNIFORM OF THE DAY: Officers and CPOs: Tropical working Khaki long or shorts
with skivvie shirt; bush hats for officers; Other enlisted - blue ball cap,
clean skivvie shirt, short or long dungarees and leather shoes on the bridge;
Boat shoes or leather shoes, skivvie shirt and long or short dungarees in the
mess decks.

OOD JOOD CICWO
00-04 LTJG MERKEL LTJG PRESCOTT SMITH, RD1
04-08 LTJG MEISNER NEWMAN, BM1 LTJG GWYNN
08-12 LTJG HAMAKER ENS BLACK LTJG HANNIGAN
12-16 LTJG FUEHRER ENS MC WHIRTER LT GENEROUS
16-18 LTJG MERKEL LTJG PRESCOTT SMITH, RD1
18-20 LTJG MEISNER NEWMAN, BM1 LTJG GWYNN
20-24 LTJG HAMAKER ENS BLACK LTJG HANNIGAN

1. PEAK ALERTNESS A MUST. Friday, U.S. Navy carrier-based planes bombed out
the POL piers at HAIPHONG, the only major port of North Vietnam. 80% of the
fuel installations and fuel in storage went up in smoke that trailed 20,000
feet high. Yesterday the North Vietnamese launched 3 PT boats at U,S, destroyers
up in the Tonkin Gulf. Because of the alertness of watch personnel aboard the
ships, enough advanced warning was available to completely cut down and sink
all three PT boats upon their approach to the DDs. We must mark the lesson
well and double our alertness, fight the day to day boredom of picket station
because we are in the most exposed MARKET TIME station. BE PREPARED -- motto
of Boy Scouts and fighting men who live to tell of it.

2. THE MEANING OF 4 JULY. Unless man can lift up his head in simple dignity
and in freedom, unless he can shape his political institutions in a mold of his
own choosing and his own making, he is not his own master, he is still in bondage.
There can be no compromise with this truth, no dilution of its principles, for
no one can be partly free or half-dignified or in pursuit of a fragment of happi-
ness. It is at this juncture that democracy and communism diverge so sharply.
Communism does not believe in government by consent of the governed; indeed,

(OVER)

an honest and open election would sound its death knell. It does not believe
that life, liberty, and the pursuit of happiness are inalienable rights of men.
Communism is dedicated to the proposition that man can be purchased cheaply,
that he will settle for an illusory sliver of supposed freedom while the all-
powerful state, firmly controlled by the Party, withholds from him his right-
ful liberties. Democracy rejects those views completely and unequivocably.
Democracy has greater faith in man and infinitely greater concern for his
basic rights. Democracy maintains that the state is the servant of man and
that man's liberty is of paramount importance, that the state cannot demean
the individual freedom only when it would degrade itself. Democracy restrains
individual freedom only when it would infringe on the rights of others,
impair the common welfare, or endanger national security. The final words of
the Declaration of Independence are a testament for all Americans. "And for
the support of this Declaration, with a firm reliance on the protection of
Divine Providence, we mutually pledge to each other our Lives, our Fortunes,
and our sacred Honor." We can do no less than uphold that pledge with fixed
purpose for, were we to do any less, our lives would be meaningless. our
fortunes valueless, and our honor stained.

(signed)
R. S. HARDY, JR.
Return to Photos
Bridge
---
0
---