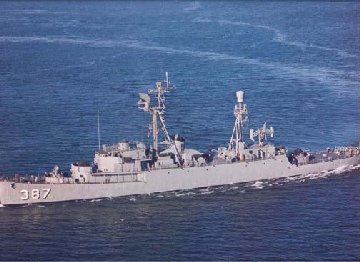 DER387
DEW LINE, DEEP FREEZE,
VIET NAM, TAIWAN NOTES:

Captains of Vance DER387

LCDR A.M.Brouner USN: 10/56 - 01/58 ReCommissioned
LCDR R.T.Daniel USN: 01/58 - 02/59
LCDR P.D.Johnson USN: 02/59 - 04-60
LCDR H.C.Penny USN: 04/60 - 12/61
LCDR H.J.Beyer USN: 12/61 - 08/63
LCDR R.W.Wright USN: 08/63 - 12/65
LCDR M.A.Arnheiter USN: 12/65 - 03/66
CDR D.F.Milligan USN: 03/66 - 04/66
LCDR R.S.Swan USN: 04/66 - 01/68
LCDR M.E.Seiler USN: 01/68 - 07/69
LT. W.J.Fulton USN: 07/69 - 10/69 DeCommissioned

The ship remained in "mothballs" for the next ##nine years, before she was towed to the Mare Island Naval Shipyard, Vallejo,CA, in November 1955 for conversion to a radar picket destroyer escort. The extensive alterations involved the addition of: improved air-search radar, extensive communications equipment, and complete facilities for fighter-direction operations. It also entailed the enclosing of the entire main deck areas amidships to provide accommodations for officers and men. Designated DER387, Vance was recommissioned on 5 October 1956 at Mare Island Naval Shipyard, Vallejo,CA, LCDR Albert M. Brouner in command. ## This is not the correct number of years, but is listed in all Vance histories.

Between March of 1957 and the end of the year, Vance was homeported at Seattle, Wash., as a unit of CORTDIV5 and completed eight patrols on various stations of the Radar Early Warning System in the northern Pacific. Each tour lasted approximately 17 days, and the ship maintained a round-the-clock vigil with air-search radars, tracking and reporting every aircraft entering or approaching the air space of the northwestern United States. On Labor Day 1957, Vance drew emergency duty-an engineering casualty prevented the assigned ship from going out-and got underway in a fast 75 minutes. Although she was only manned at 60 percent of her complement (because many of her officers and men were ashore on leave or liberty and could not be notified in time to return to the ship before she weighed anchor) Vance was deployed for 12 days and completed a successful mission.

On 1 June 1958, the radar picket escort ship's home port was changed to Pearl Harbor; and she began operating with CORTRON7. One month later, she departed Hawaiian waters for a 29-day patrol on the mid-ocean picket lines which provided radar coverage from Alaska to Midway Atoll. Vance thus became the first ship on the Distant Early Warning, DEWLINE, in the Pacific and the first to sail under the newly organized Pacific barrier patrol. In mid-January 1959, following routine overhaul and refresher training at Pearl Harbor, Vance again took station on the mid-Pacific stretch of ocean on her second DEWLINE deployment.

Vance continued to conduct regular DEWLINE patrols until May of 1960, when CORTRON7 was dissolved. At that time, she rejoined CORTDIV5 and served with her old unit into 1961. On occasion, the picket ship took Russian trawlers under surveillance-undoubtedly while the communist vessel was returning the compliment.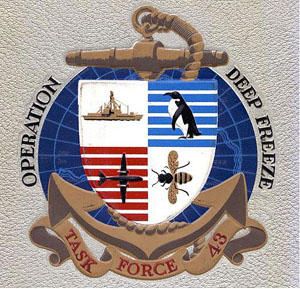 Early in 1961, Vance's communications capabilities were extensively augmented during an overhaul at Pearl Harbor. After resuming DEWLINE patrols late in the spring, the ship received orders in August 1961 designating her an ocean station vessel with TF43, Operation "DEEPFREEZE 62." Temporarily based at Dunedin, New Zealand, Vance served as a communication relay ship for aircraft bringing in vital supplies to the Antarctic stations from New Zealand. She remained on station in the cold, bleak, southern waters into March 1962, when she headed home via Melbourne, Australia, and Papeete, Tahiti, to Pearl Harbor. She soon resumed duties on the DEWLINE and except for periodic interruptions for maintenance, replenishment, and training-devoted herself to the task of operating mainly off the Aleutian Islands through February 1965.


In the mid-1960's, with the advent of improved radar and early-warning capabilities, the radar picket escort ship was rapidly approaching obsolescence. However, as the United States stepped up its efforts to aid the South Vietnamese government in countering internal and external communist aggression, the ship received a new lease on life. In Vietnam, a ship of this nature could be invaluable for coastal patrol work. Accordingly, in February 1965, Vance was ordered to the Western Pacific (WESTPAC). On 25 March 1965, she sailed from Pearl Harbor, in company with Brister DER327 and Forster DER334, as Task Group TG52.8, bound for the Philippines.

En-route from Subic Bay to waters off the coast of Vietnam, Vance rescued Capt. Leland D. Holcomb, USAF, who had ejected from a burning F100 Super Sabre fighter plane. Vance took station in Operation "Market Time" on 11 April 1965. From that day until the 24th, she operated near the 17th parallel as a part of Task Unit TU71.1.1. During the assignmeet, she maintained communications between airborne Convair EC121K Constellations and Commander, TU71.1.1, in John W. Thomason DD760. Subsequently from 15 May to 4 June, Vance returned to "Market Time" surface surveillance-this time in the Gulf of Thailand near the border dividing South Vietnam from Cambodia. She operated in company with small minesweepers, MSO's and embarked a Vietnamese Navy liaison officer to aid in the ship's "visit and search" activities. She continued these activities until sailing for Hawaii early in September and arrived at Pearl Harbor on the 18th.

Vance returned to "Market Time" station in mid-January 1966, and then participated in Operation "Masher," the amphibious operation designed to clear northern Binh Dinh province of Viet Cong insurgents. Next moving to the Gulf of Thailand once more, the destroyer escort conducted close-support and logistics operations with Navy PCF's (swift boats) and Coast Guard WPB's in interdicting communist coastal supply traffic, often boarding 30 vessels per day.

Underway on 11 April to patrol off Cap de Ca Mau, the southernmost tip of South Vietnam, Vance monitored coastal junk traffic and seagoing vessels, surveying traffic patterns in the South China Sea. Later, off Binh Dinh, she closed to investigate a trawler and came under fire from Viet Cong ashore. Although the ship's skin was pocked by bullets, Vance briskly returned the fire with her 3-inch battery, driving away or killing the unseen but pestiferous snipers.

In a more humanitarian vein, Vance and a "Swift" rescued 56 men, women, and children from a swamped boat near Qui Nhon. For several hours, Vance's men cleaned and fed babies; made old women as comfortable as possible; and gave away blankets, towels, and food. Relieved by Haverfield (DER-393) late in July, Vance headed for Hawaii and got as far as the San Bernadino Strait before she was ordered to return to Vietnam for further "Market Time" duty. On 6 August, Surfbird ADG383 relieved the destroyer escort on station and allowed Vance to sail again via the Philippines for Pearl Harbor.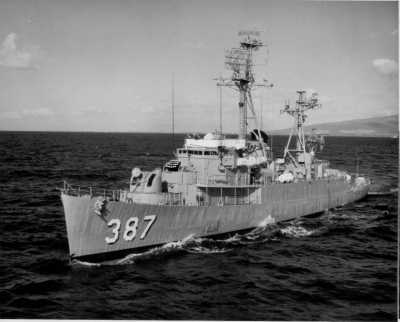 On 15 January 1967, Vance returned to the Far East for another 7th Fleet deployment and relieved Koiner DER331 off the mouth of the Saigon River. Once again, Vance's duties involved hunting for contraband-carrying craft attempting to infiltrate from the north to deliver their cargoes to the Viet Cong. Vance tracked all ocean-sized vessels and stopped and searched junks and sampans-tedious and frustrating but vital work.

The ship conducted two more "Market Time" patrols during her third WESTPAC deployment and, between missions, underwent a tender availability at Kaohsiung, Taiwan; rest and recreation at Hong Kong; and upkeep at Subic Bay. At the end of her last "Market Time" assignment, she patrolled the Taiwan Strait between communist China and Taiwan before returning to Pearl Harbor for routine overhaul.

In late 1967, the ship began her fourth WESTPAC deployment in which her duties were similar to those of her third deployment. She returned to Pearl Harbor in August, 1968.

In late 1968, the ship began her final WESTPAC deployment, in which her duties were similar to those of her fourth deployment. She returned to Pearl Harbor in June, 1969

She subsequently returned to the west coast of the United States in July,1969 for inactivation.

Placed in reserve, at the Inactive Ship Facillity, Vallejo, Vance was decommissioned on 10 October 1969, struck from the Navy list on 1 June 1975, and scheduled to be used as a target.

Vance received seven battle stars for service in Vietnam.
| | | | | |
| --- | --- | --- | --- | --- |
| YEARS | 6/2/1966 | 1967 | 1968 | 7/10/1969 |
| PATROLS | | | | |
| MARKET TIME | 3 | 6 | 4 | 3 |
| TAIWAN Straits | | 3 | 7 | 5 |
| PORTS OF CALL | | | | |
| Subic Bay,PI | 3 | 2 | 2 | 1 |
| Guam | 1 | 2 | 2 | 2 |
| Hong Kong | | 2 | 1 | 1 |
| Kaohsiung,RNC | | 4 | 5 | 5 |
| Keelung,RNC | | 1 | 1 | 2 |
| Hualein,RNC | | | 1 | |
| Vung Tao,RVN | | 1 | | 3 |
| Qui Nhon,RVN | | | 2 | |
| Da Nang,RVN | | | 1 | |
| Yokosuka,JAPAN | | 1 | | |
| Sasebo,JAPAN | | | | 1 |
| Pearl Harbor,HI | 1 | 1 | 1 | 1 |
| Vallejo,CA | | | | 1 |
Return to Facts Index
---
1 ~ 2 ~ 3 ~ 4 ~ 5 ~ 6 ~
---
To add to or comment on page



Please contact George.
---

for broken links
---
Comments / Questions



You don't have to be a former crew member to sign





---
Sign Vance's Logbook
Bridge ~ Top of Page ~ Photos ~ Stories ~ Facts